Online bookingtool Atriis
If you wish to book your entire business trip in one system, you can do so in our online booking tool Atriis. This unique tool is designed for both business travel agencies and customers. Whether you are a traveller, travel manager or management assistant and wish to book a single flight or a complete business trip with additional products, our user friendly tool offers numerous possibilities.
Tailor made
If you choose our online tool, it will be tailor-made for you. Based on an extensive intake interview, our online specialist will map out your specific wishes and needs. In addition, we take into account your travel policy and/or approval policy. For example, we integrate the rules determining who is allowed to travel within your organisation, in which class and at which rates, and who may need to give approval for this in the tool. This allows you to keep control and an overview.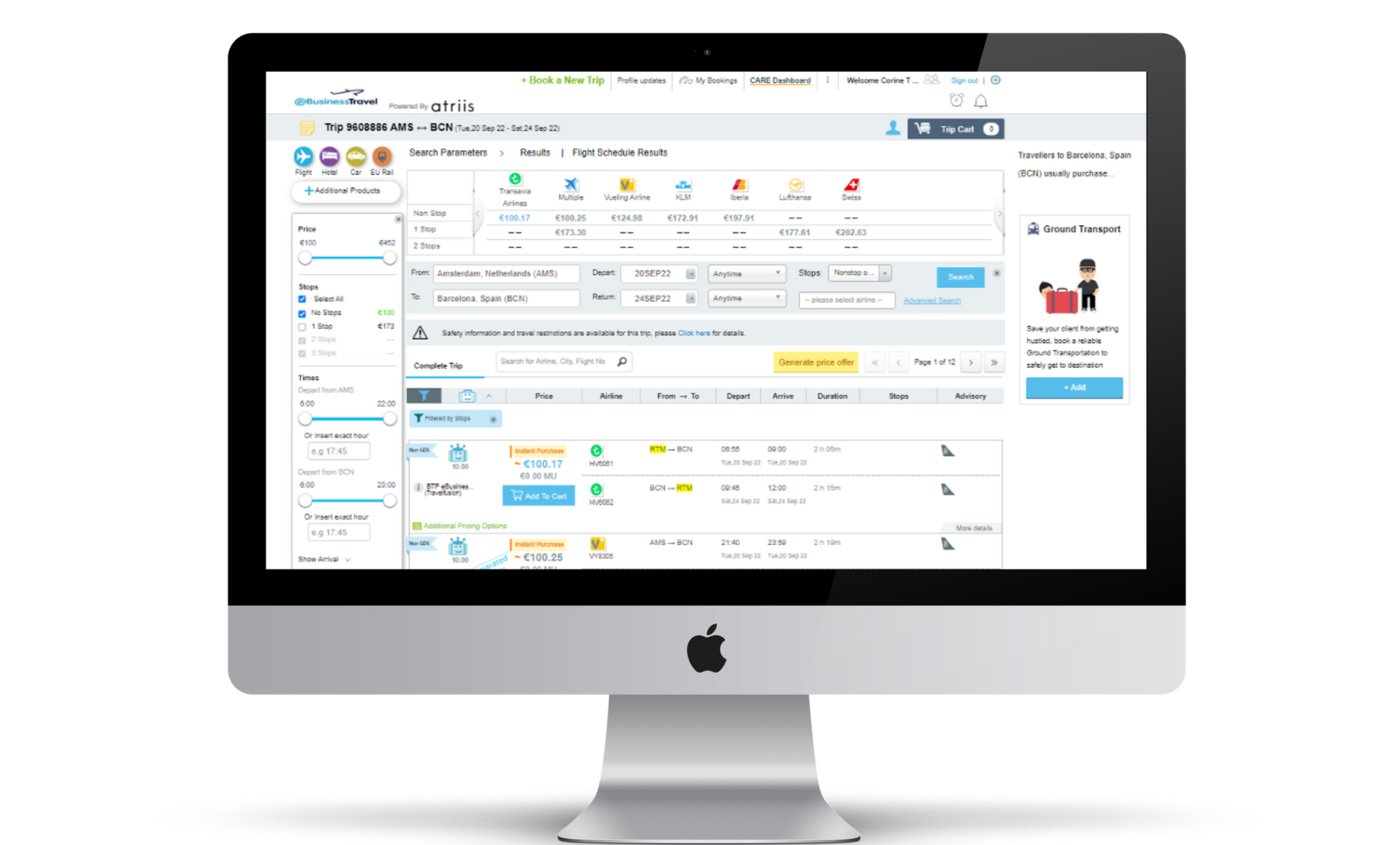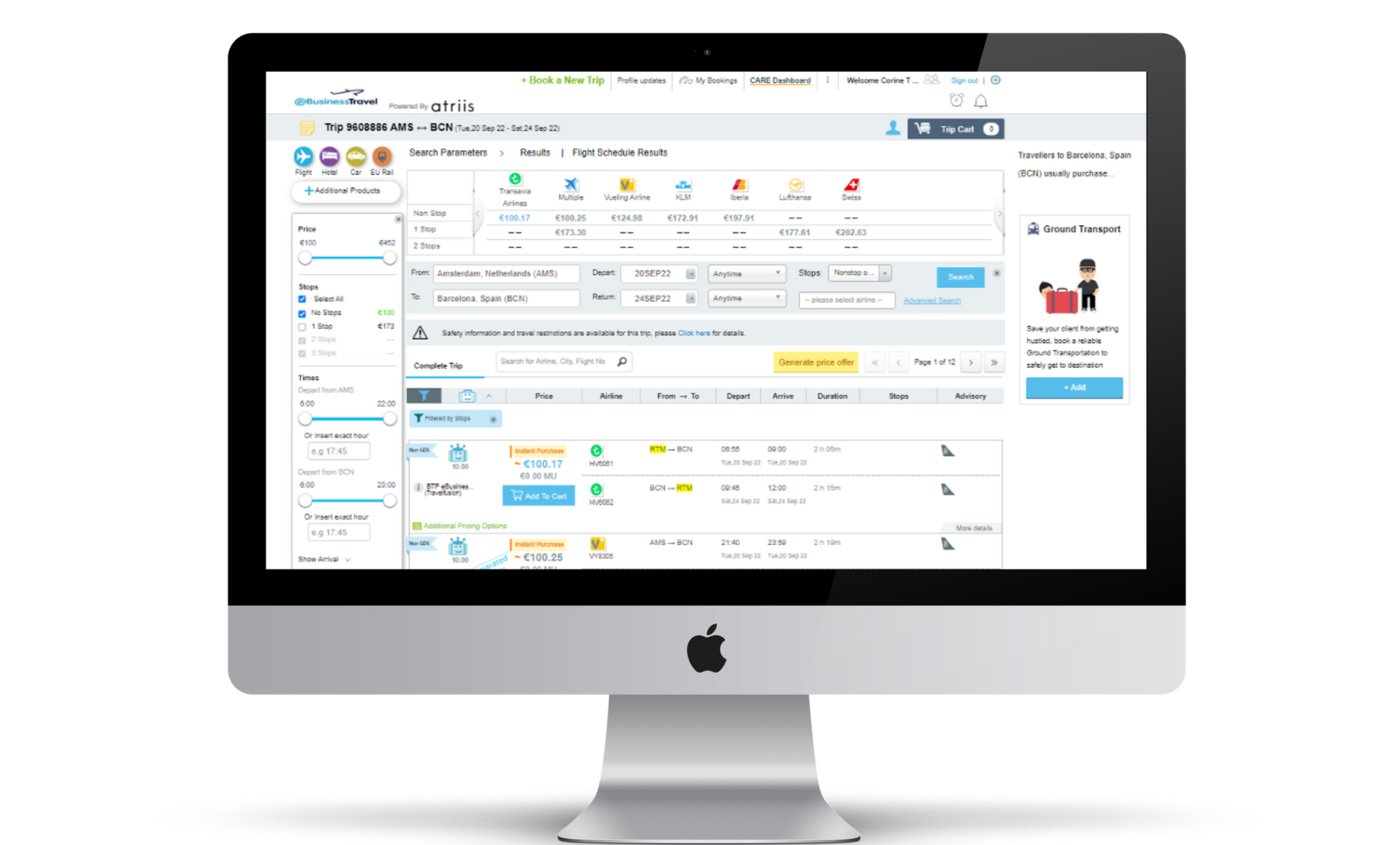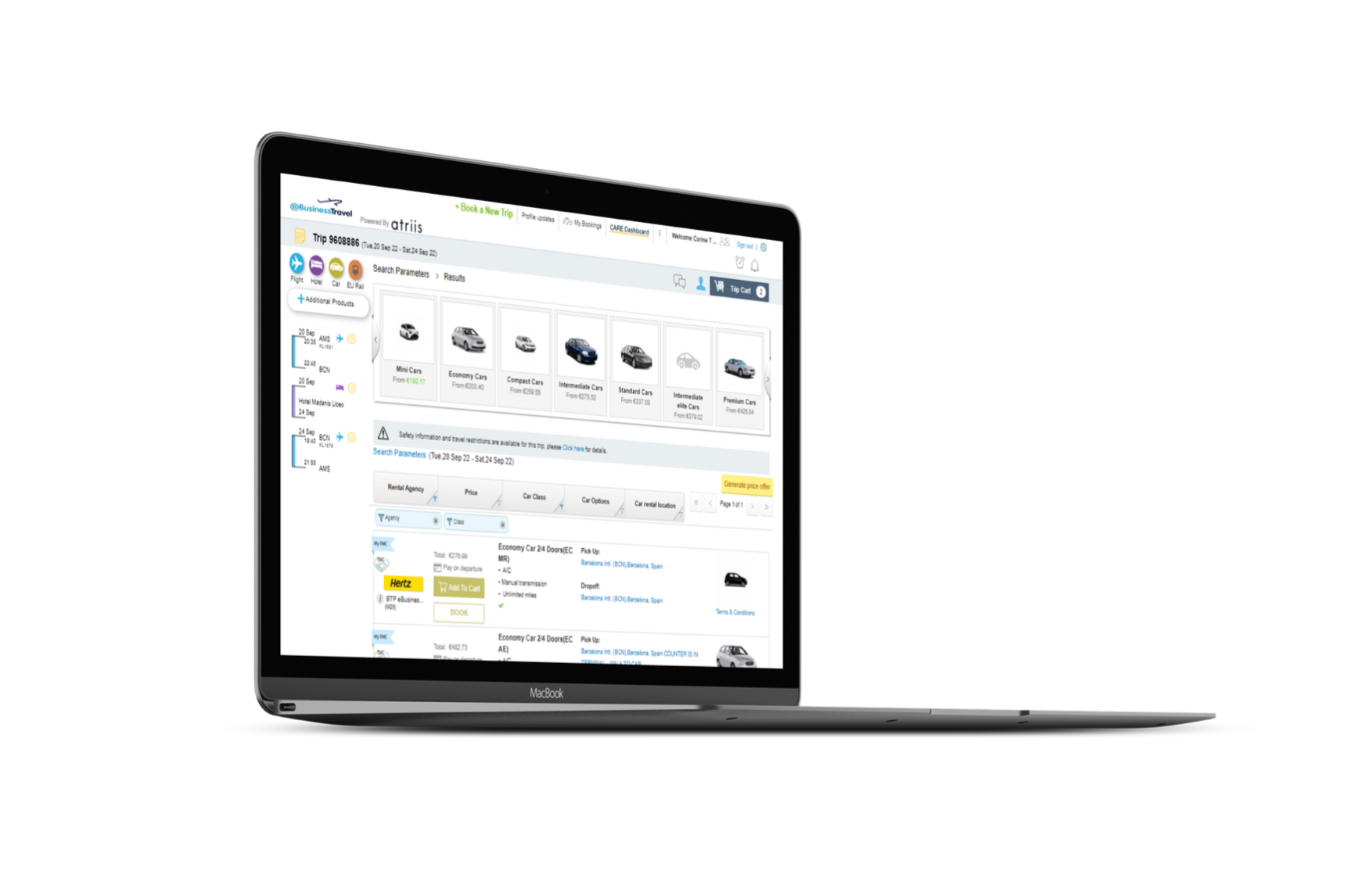 Profiles
Whether you book your trips with us online or offline, we create a profile of each traveller with all necessary data such as your name according to passport, passport number and frequent flyer number. But also dietary requirements or a preferred seat on the aero plane are stored in this profile. As our online booking tool is linked to our profile system Umbrella, your details are always up to date when you make an online booking. You choose the traveller and all the information is loaded automatically.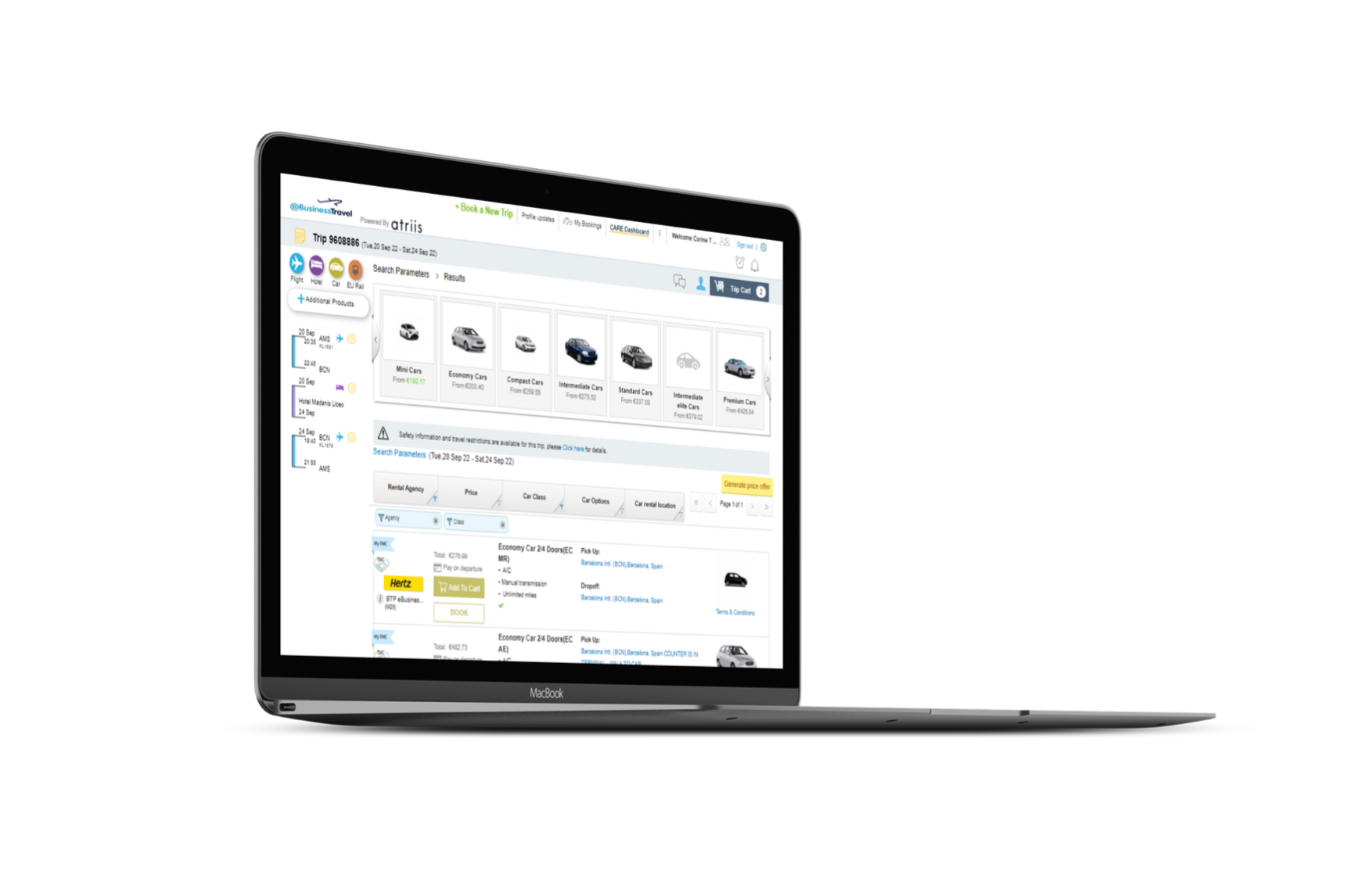 Duty of Care
As an organisation, you have Duty of Care, a legal duty of care to your employees, even during a business trip. Our online booking tool offers you Atriis CARE; this is a dashboard where you can always see for yourself where your travelling employees are. If trips are booked to countries where there is an emergency or unsafe situation, your employees will automatically be notified.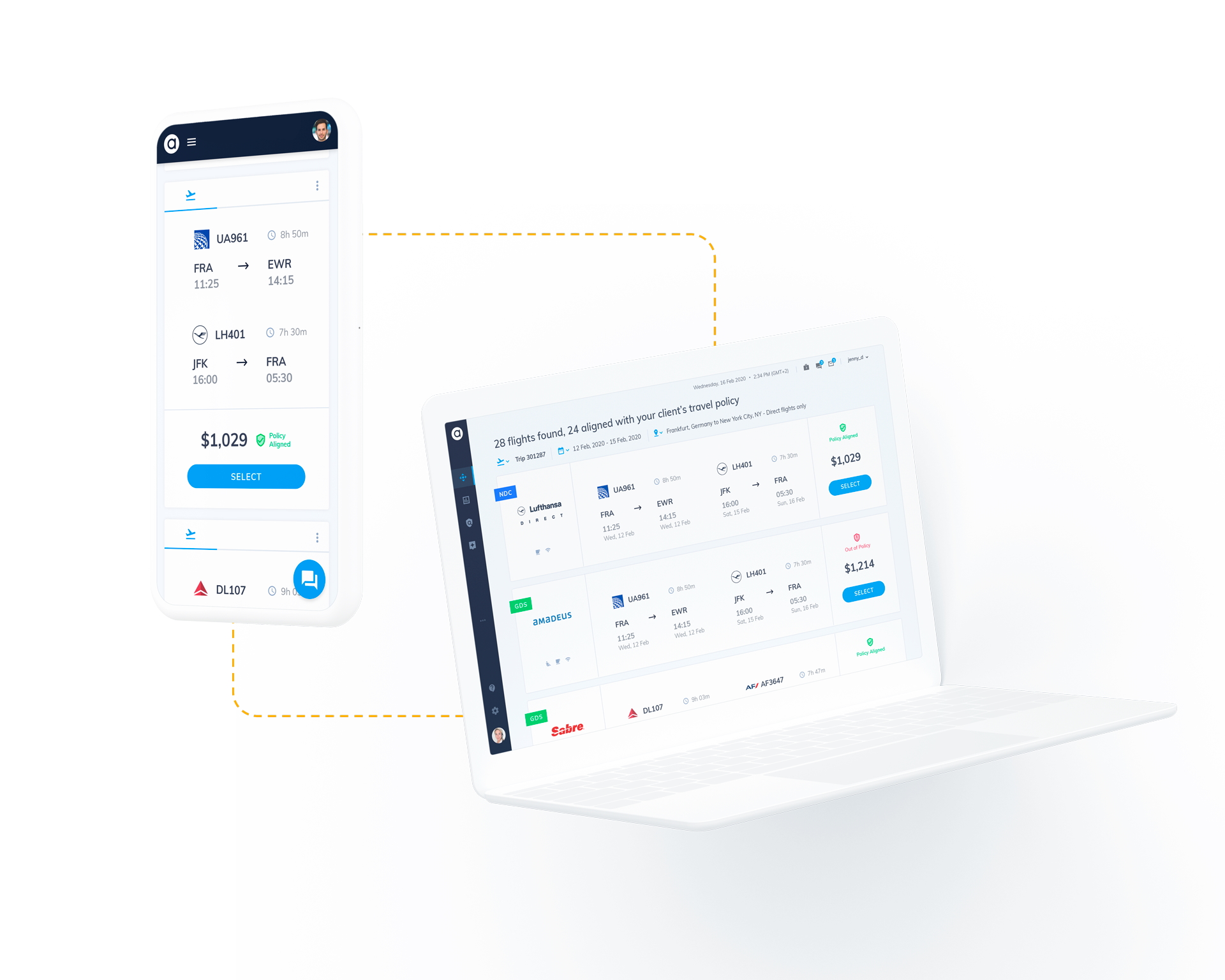 Flights
Through Atriis, you have access to an extensive worldwide offer of airlines, including low-cost carriers such as Transavia. NDC fares are also available; these fares are sometimes offered by airlines exclusively through their own channels, but you can book them in Atriis. If your organisation has special contractual agreements or negotiated rates with an airline or hotel, we can also show these in the tool. You will find the complete offer in one system. 
Rental car or train
If you wish to book a rental car, Atriis offers you a wide choice from, for example, Sunny Cars, Avis or Herz. It is possible to pay for the car in advance, so you only have to drive away on the spot. If you only wish to book a transfer from or to the airport, or need a taxi, this is also possible in the tool. Prefer to travel by train? You can book international train tickets for Thalys or Eurostar quickly and easily by yourself. 
Hotels
Would you like to book a hotel room? Since Atriis collaborates with Booking.com, Ratehawk and many other suppliers, you can choose from the most complete offer with more than a million accommodations. Using an address or a map and filters, you can quickly and efficiently find the accommodation you prefer at the best price. 
Advantages of the online bookingtool
Advantages of the online bookingtool
You can book your trips 24/7
The tool is accessible via desktop, laptop or smartphone
One invoice for your entire trip
Very complete travel offer at the most competitive rates
Clear overview of your travellers' whereabouts
Our travel consultants are always at your service with personal support
Would you like to know more about our online booking tool? 
Are you curious about the conditions for using our online booking tool? We would be happy to tell you more about it. For more information or to request a demo, please fill in the contact form. We will then contact you as soon as possible.
You can also call us on: +31 (0)85-0210310